Well, that happened.
There I was, idly thinking "Hey, what's yarn related that I haven't done?" And then I remembered the fleece and the pine spindle I'd bought in Knit Nottingham (Wouldn't it be cool if it was Knit Knottingham? Sorry. Off-topic.) So I picked them up and had a bit of a twirl.
A couple of weeks later and I'm now the proud owner of several bags of roving, another spindle, a helpful book and an exciting new obsession!
I don't know what happened. Really I don't. It's like my brain went on its own little spree, hungry for more time-sucking wool-related crafts I could try and get terribly good at. It's like Awakenings but, one hopes, without the depressing ending and with more wool fumes
So, here's what I picked up to feed my new addition;
Sara's Texture Crafts
has some lovely fibre at what (to a finished-fibre stasher) seem like really good prices. I have 100g to merino/silk in an amazing colourway called 'River', which is a delicious blend of cool blue, dark green-blue, with little streaks of pale yellow and iridescent silver silk. Link to it
here
- isn't that pretty? I also got a mixed bag of Shetland in natural colours, which include a lovely soft moorit.
Forest Fibres
are also very good; I picked up a bag of
this roving
for a pitiful amount of money.
I've also been watching
Abby Franquemont's
videos on youtube on using a drop spindle. This one, below, was invaluable and I really recommend it as a good introduction.
I've read a lot of advice, but until you really see someone doing it, it's really difficult to get the 'feel' of it. So much of knitting - and spinning too, it seems - is about feel, and developing an instinct for what seems right and not. In knitting, I don't even think about tension; my hands do it all for me. I'm only just starting to get to a point where my hands have learnt what they need to do to spin, but already they're taking over and doing all these tiny adjustments and gestures that I don't even think about.
Abby also has a book on drop-spindling that I think I may pick up, it seems to be the most recent as well as the most respected on the subject. A lot of spinning blogs and advice touch briefly on the drop-spindle as a method, but don't really explicate - they seem to treat it as an adjunct or starter-kit for a spinning wheel. Not that I have anything against wheels (in fact I'm serious contemplating getting one now) but spindles are a seriously different kettle of fish.
Because I was stuck at home for a couple of days this week with a chest infection which pretty much confines me to sitting-down tasks, I really had a lot of time to get stuck in and really get a feel for the spindle. Having hours in which I could play uninterrupted and really learn from what I was doing helped me get to grips with it. Yesterday I spun the merino 'foxglove' roving from Forest Fibres and produced a good chunky ball of soft yarn. It's about a 5ply or sport weight yarn, with the occasional brief foray into DK!
I was pretty pleased, and it knits up nicely. So this morning, I had another go - having not practised in the meantime - and produced this yarn from the merino/silk roving;
Just so you can see the difference, here they are together;
Isn't that strange? I had in my head that I wanted to make a finer yarn from this one, and whether because it's something about the yarn itself, or thinking that I wanted it finer, or the fact that today I'm doing less park-and-draft and more dropping, it came out somewhere around light sock-weight.
I am enchanted! What the hell is going on? I don't fully understand it and it makes yarn, what's not to love about a craft like that?
On the subject of spinning, I've started furtively looking at spinning wheels. My favourite is this, the
Ashford Joy
- doesn't the name say it all?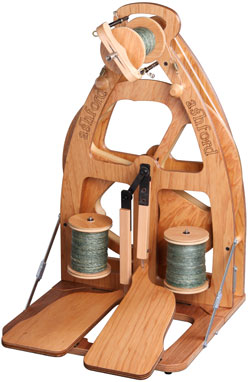 Look at that bad boy! It folds up! Have you seen it spin? Inexplicably fascinating!
At nigh on £500 though it's a bit out of my range, though, so I've been looking at a second-hand one of these;
Herring wheels
. A large part of me just wants to say "I have a Herring wheel" but they are lovely, and seem to do everything well and sturdily.They also look a bit 70's Scandinavian which doesn't hurt.
Can't you just see someone earnest and bearded in
Tromso
using that? I really need a living-room like this to fit in with the wheel;
Anyway, my cup of tea is finished, and I have lots of tiny pieces of roving to pick off the floor. I'm secretly wondering if perhaps that blue yarn was my last hurrah, and now I'll have inexplicably lost the ability to spin, so I might go and reassure myself on that front. So I'll leave you for the moment - why not go and obsess over roving and spinning-wheels? It's what I'm going to do!